I thought about writing a snazzy post with adorable New Year's Eve outfits for all the fabulous parties and fun times that will be happening tomorrow.
Then I realized that it would be pretty hypocritical of me to do so, since the most glamour that I will be a part of will be my fantasies of having a reason to wear a sparkly dress.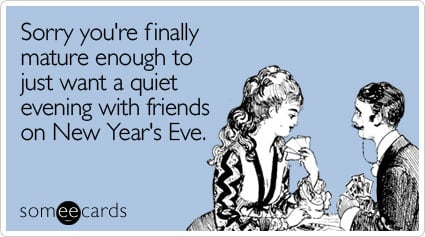 Instead, something more in my reality is how to survive the evening with a toddler in 3 easy steps:
1. Wear an outfit you don't mind getting food/snot/"insert something gross here" on.
There's really no point in putting on anything pretty or remotely expensive because inevitably your toddler will decide that's the perfect moment to use you as their personal napkin.
2. Be prepared to have lots and lots of drinks handy (full of caffeine, of course.)
Let's be real, by the time you wrangle that sweet little monster into their bed, all you really want to do is sit down and mindlessly watch tv until you crawl into your bed that night. A couple glasses of wine may knock you out before the ball even drops. ( I mean, I'm not the only one, right?)
3. Be ready to party hard, mommy/daddy style.
That couple you see in the booth, bleary-eyed and nursing the same drink all night, pretty much looking completely out of their element? Yep, that's us. I just don't know how to do that anymore. My idea of having a night out for New Year's now consists of some of my mommy friends, a glass of wine, and probably going to bed not too long after the ball drops.
So, there's my reality folks. And you know what? I'm not upset about it in the slightest.
Do you feel like you're missing out on things with having little ones or do you still partake in the festivities?