Welcome to the new home of High Five for Friday - hosted by Caitlin, Tif, Katie, and Della!
A HUGE thank you to Lauren at Lauren Elizabeth, who has been hosting this link up forever!
And thanks to all of you who have decided to continue to pop over to join us! You can read more about our announcement here.
Are you completely new to Coffee with Caitlin? Welcome and be sure to stop by here to get to knowme a little bit better!
Fellow bloggers - ready to join in the link up AND be automatically entered to win a $100 Target giftcard?
Scroll to the end of this post to read what to do. If you're a #H54F regular, it's business as usual, and you know what to do!
Now, onto our regular High Five for Friday goodness!
1. Of course,the first for this week is that we're the new home of H54F! We're
so
excited to be hosting. I met some great bloggers there,
including
my
lovely cohosts, so

don't forget to check their blogs out too! We are hoping and working

hard to keep this tradition going, and we're so excited to have you as a part of it!
2. We had a wonderful
rescheduled Christmas party for my church's Mommy group. It's so great to get together with other women that get what you are going through. We also exchanged handmade gifts and I got a yummy organic coffee and coconut oil scrub. Can't wait to use it!
3. Monday was Jay and I's 2 year wedding anniversary! We had a great time celebrating on
Sunday
,
and even though Monday was full of interviews and various work, we were still able to spend a little time together in the evening.
4. Juliet is
officially dropping her 2nd nap. For all you mamas out there, you know what that means. A lot less productivity around here. Plus, quite honestly, any milestone she reaches always makes my heart hurt a little. I love watching her develop, but man, can I keep her tiny a little while longer?
5. I've got quite a few job interviews and opportunities lined up right now that would allow me to have some creative scheduling when it comes
to being home with Juliet more. This is helping with the sadness of having to go back to work after staying home for a year. Thank you to everyone who has been so encouraging throughout this journey! I appreciate it more than you know!
HOW TO LINK-UP
Fellow bloggers - ready to join in the link up? In case there's anyone new to the game, here's what you do!
Just write a blog post about 5 things that made this week awesome! It could be 5 memories, 5 pairs of shoes you wore, 5 "good job" comments you got, or 5 pieces of chocolate you scarfed down when no one was looking.
Add your link to your blog post down below. Then be sure to link back to the link up by grabbing the H54F button!
Tif
, Katie, Della and I want to put our own spin on H54F. We are planning on visiting each and every one of you and saying hello! We want to get to know you all, and find some new blogs. Each week we'll be featuring one of you as our blog pick of the week.
Also, bloggers, you have a chance to enter to win $100 Target gift card! (open to US residents only - sorry!!) Simply link up to this week's H54F, and then we will randomly select one winner using a random number generator. Contest ends at 11:59 p.m. EST on Friday, January 9, 2015. By linking up, bloggers agree to the full terms and conditions, which can be found here.



Thanks for stopping by! If you're a veteran H54F-er, we hope you'll continue to link-up. If you're new to the H54F game, we hope you'll join in every week! Happy reading!

Don't forget to grab a button: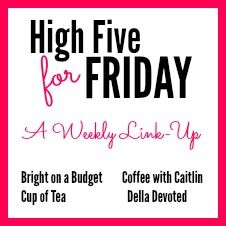 <div class="coffee-with-
caitlin-button" style="width: 200px; margin: 0 auto;"> <a href="http://www.coffeewithcaitlin.com" rel="nofollow"> <img src="http://i40.photobucket.com/albums/e232/coffeewithcaitlin/h54f2_zpsc7e1f4e7.jpg" alt="Coffee with Caitlin" width="200" height="200" /> </a> </div>